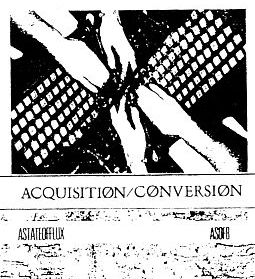 Download | Return to A State of Flux Archive


Originally released Autumn 1988
Remastered for Download April 2007

Tracklist:

1. Billboard Combat - In Hoc Signo Vinces
2. Illusion of Safety - untitled
3. Michael Chocholak - Kikiebutsu
4. David Prescott - Probable Cause
5. Dur Process - RRRadio - WMBR Extract
6. Mystery Hearsay - Live Radio Perfromance
7. MacKechnie/Marion - FATD
8 Splinterface - Will It Do Tonite
9. The Gossamer Years - Lockout
10. Rolando Chia - I, II, III
11. Jef Sampson - As Prayer Draws Closer
12. Stained Rug Theory - Nazi Dress
13. Stained Rug Theory - Opium

This compilation took years to assemble, with various troubles abounding and other priorities interfering. It finally came to fruition, too late for anyone to really care, but there are some really good moments here. I think Due Process put in one of their finest tracks ever, aside from others. But you decide.

The image at left is a detail from the J-Card insert from the cassette packaging. More packaging images are in the zip file.

Clicking the Download link will deliver the zip file containing all mp3 tracks, image files and a text file.